Can I adopt a child with Adoption Focus?
If you're thinking about adopting a child or adopting children, we can help you. We've taken hundreds of couples and single people through the adoption process. People from all backgrounds and in all situations have become successful adopters with Adoption Focus.
Adoption Requirements
In order to adopt in the UK, you must be age 21 or older - there's no upper age limit - and you need to be able to provide the child or children you adopt with their own room. If you are applying as a couple, at least one of you must be a resident of the British Isles or both of you have been 'habitually resident'. Single applicants must either be residents of the British Isles or have been 'habitually resident' in a part of the British Isles for at least one year before submitting an application.
There's more information about who can start the adoption process on our are you eligible to adopt page. Or, you can use the Can I Adopt widget further down this page. 
If you're not sure whether you're eligible to adopt a child, please don't rule yourself out, just contact us. Our friendly, professional team will be happy to hear from you and answer any questions you may have sensitively and professionally. We'll tell you all about the adoption process, the children we place, and the fostering for adoption route to becoming a parent through adoption.
"She jumped into my arms shouting 'Mummy'! BEST. MOMENT. EVER. It wouldn't have happened without the support of Adoption Focus." - JM, Adoption Focus Adopter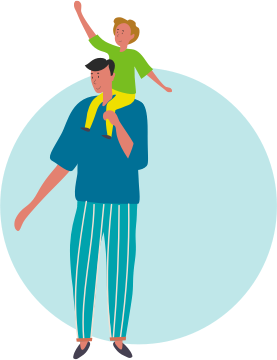 If you're interested in adopting and you live in any of the following locations, West Midlands, including Birmingham, Solihull, the Black Country, Coventry, West Midlands county, Staffordshire, Shropshire, Worcestershire and Warwickshire, or East Midlands, including Nottinghamshire, Leicestershire, Derbyshire, Lincolnshire, or Oxfordshire or any neighbouring counties, we want to hear from you. If you're not sure if you're in our area, please get in touch.
We have had a couple of IVF treatments and want to have another go. We have heard that adoption takes ages so we want to run our adoption application alongside the IVF so that we don't waste any time. Is this ok?
IVF needs all of your attention – and so does adoption.  If you are still hoping to achieve a successful pregnancy through IVF, you need to focus on this before embarking on the adoption process.
There are two main reasons for this.  The first is that if the IVF treatment is successful, you will be enjoying your pregnancy and will not be in a position to adopt.  The second is because when we place a child, their adoptive parents must feel committed to them, and to do this they need to have given themselves time to grieve for the birth child they did not have.
Read more